Corporate Retreats on the Outer Banks
Corporate Retreats on the Outer Banks of North Carolina
It's no secret that the Outer Banks has made it's mark as a family vacation destination for people from around the world. As this trend has grown over the years and more people have fallen in love with the Outer Banks.... they are pushing for their companies to have their business or corporate retreats here too.
Accommodations are cheaper...
Companies are beginning to see that the Outer Banks is the ideal destination for their company retreat. As prices for accommodations adjust down to their "shoulder season" prices you are able find vacation homes that are not only big enough for your group but is also loaded with amenities such as theatre and game rooms, heated pools and hot tubs, plenty of decks and wide open beaches.
Fall & Spring Weather is ideal for Corporate Retreats...
With warm temperatures still the norm, the Outer Banks allows you and your team to enjoy outdoor team building opportunities and your personal time in between those busy work sessions.
A few events that come to mind that involve the outdoors that could pull your team closer are scavenger hunts, charter fishing trips, kayak tours and even pontoon boat sunset cruises.
These are just a few of the events to break the monotony of your daily work sessions and allow you to enjoy your beautiful surroundings.

Don't forget to eat...
As many companies know, it's important to have a caterer by your side as you plan your corporate retreat. Corporate retreats can boost company morale and set the tone for prospective clients. Here at Ten O Six Catering, we can't wait to collaborate with you to take care of your catering and event needs.
We can handle of all the details for your corporate luncheon, company party or private event! We deliver, set up and clean up, all while having our helpful staff there to handle everything.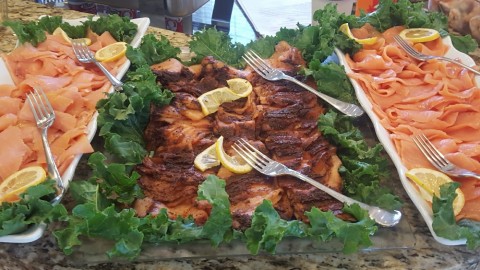 No more debating who gets the job of cleaning up after your corporate retreats luncheon!
If you are looking for more full service catering with a buffet set up; chafing dishes and carving stations then speak with one of our catering specialists to ensure you get the professional touch, not the take-out feel.
Check our catering menus for some menu ideas, but if you don't see what you are looking for, let us know. We would be happy to create the menu you have in mind.