Outer Banks Seafood Festival 2017 Peoples Choice Award
Ten O Six wins 2017 Outer Banks Seafood Festival People's Choice Award
Yep, you read that correctly.
Ten O Six is fortunate and honored to have won the 2017 Outer Banks Seafood Festival People's Choice Award.
The main goal for Ten O Six is to introduce our chef's palate of pairing with local seafood and keeping our menu within the confines of the expected small plate offering to the festival's visitors. We have been involved with the Seafood Festival for the last 3 years and we feel it is the perfect opportunity to showcase our version of Outer Banks seafood that we are able to introduce and best represent our restaurant to new customers.
Chef/Owner Will Sanders set out to make a statement for Ten O Six at this years event... and from the feedback... plus winning this award, he definitely nailed it and exceeded his own expectations.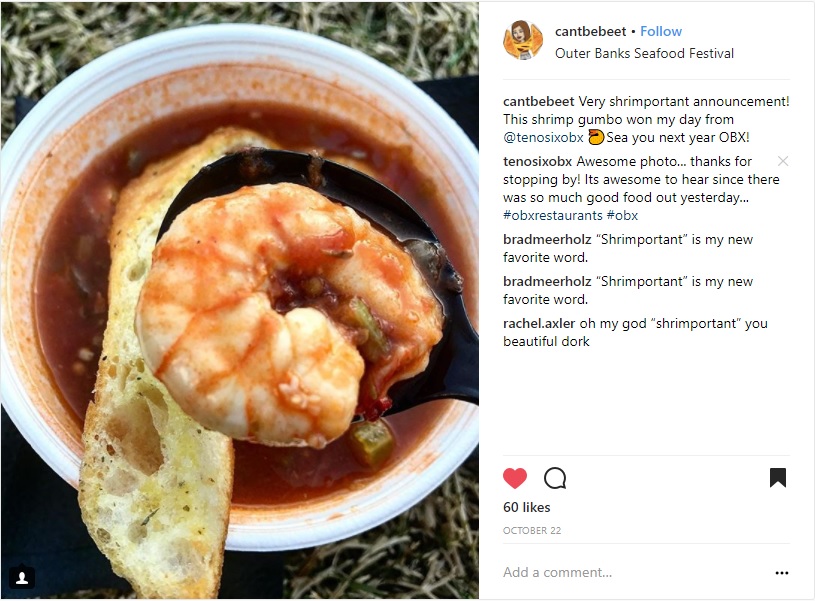 Our festival menu included:
Locally caught Cajun Yellowfin Tuna Tacos
(Oneal's Sea Harvest)
Locally caught Shrimp Salad Rolls
(Captain Jason Snead & Captain Randy Graham)
Oyster Stew
(The Captain's Oyster)
Locally caught Shrimp Gumbo
(Captain Jason Snead & Captain Randy Graham)
We would like to thank everyone that came out and supported this unique event and also voted for Ten O Six for the People's Choice Award for the 2017 Outer Banks Seafood Festival.
---
Need more information on our personal chef services, full service catering, wedding catering... Feel free to contact us with any questions or take a few minutes to start planning your menu for your next Outer Banks event.