Some of the Best Outer Banks Seafood can be eaten at Ten O Six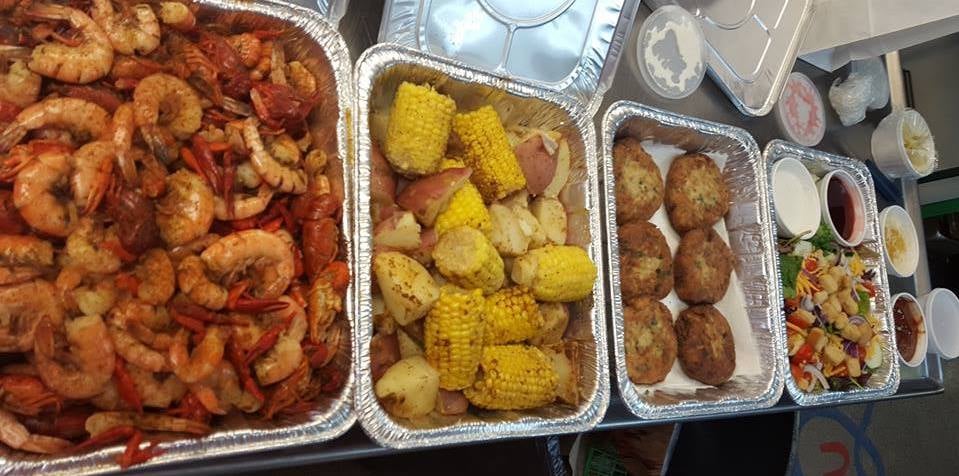 If you are like most vacationers, you want to enjoy the foods that are local to the area you are visiting and the Outer Banks is no different.
The OBX is world renowned for its local seafood! With a large number of local fishermen / waterman having access to the Atlantic Ocean --- coupled with the abundance of species living in the Gulf Stream, Ten O Six is able to source and offer an extensive selection of seafood & shellfish for your vacation's meals.
At Ten O Six, we have different choices of how your local seafood can be served. Below we introduce 4 ways that you can order your meals for your group's enjoyment:
In the restaurant...
Ten O Six tries to distinguish itself from other local restaurants by its devotion to using fresh local ingredients and our pursuit of constantly renovating our cooking techniques. Our menu is not dictated by what everyone else is doing, we drive our menu by what ingredients we can find locally to enhance your dining experience.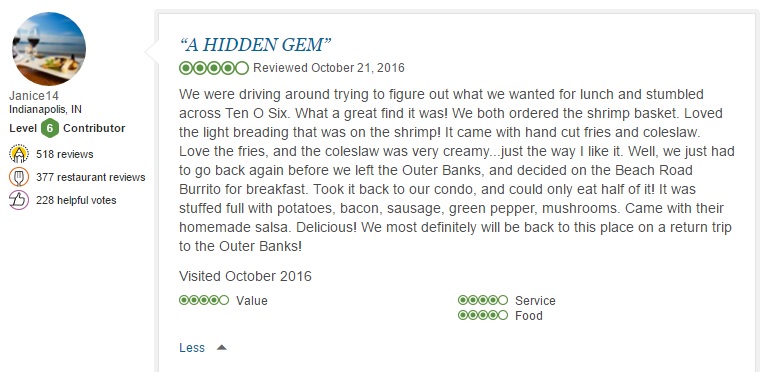 Check out our menu in the restaurant to learn more
Steamed Seafood, Seafood to Go, Seafood Boils...
One of our Seafood Specialties: Is when we take a variety of your choice of fresh seafood, steamed with mouth-watering spices, then we can pour it out on the table on butcher paper, give you a mallet, bibs & let you go at it!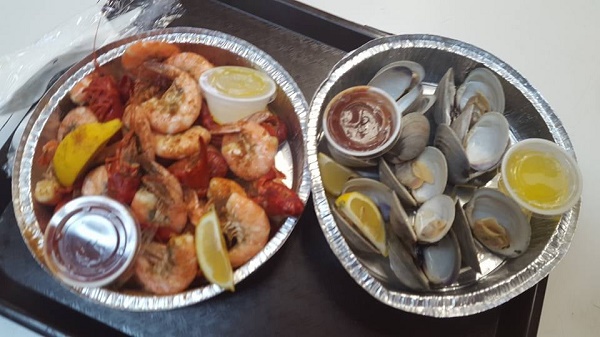 Check out some of the items on our steamed seafood menu or take a look at the different choices you have for your seafood boils to get a better idea of how we can customize your family's menu!
Personal Chef, Outer Banks Clam Bakes...
Clam Bakes are quickly becoming a tradition on the Outer Banks for many of our return clients! With all of the fixins steamed (outdoors, of course) in a large pot with a flavorful broth curated from our custom spices and served to your family.
We love bringing this Southern summertime specialty to your vacation home with shrimp, lobster tail, and spicy Italian sausage. We go the whole nine with traditional accompaniments like fresh corn on the cob, red potatoes, and golden drawn butter for dipping. Lay out some newspapers and enjoy the feast.
Want to learn more about an Outer Banks Clam Bake...
If you are looking for a more intimate setting at your Outer Banks Vacation home please check out our:
Remember, these two are items are used as a guide as we spend a lot of time with our clients trying to customize their menu, since they know their group's palate the best!
Destination Wedding & Event Catering...
There are many different options for beach destination wedding reception menus that can add a taste of the ocean to your reception. But please remember this is your wedding reception -- yes have options for vegetarians and maybe a couple special dietary restrictions but DO NOT drive yourself crazy making everyone happy --- it's your day!
P.S. Do not forget about your rehearsal cocktail party menu!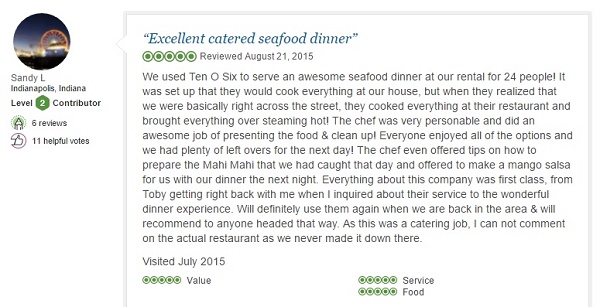 Whether you choose to order and relax on the patio or for carryout, maybe you want to take a small feast back to your house for enjoyment, have one of our personal chef / outer banks clam bake crews come to your house or maybe you just want our Professional custom catering services to come and cook your next local outer banks seafood event on your property, the choice is yours just let us know... So we can start planning your next event!